History
The Limes Museum is a branch of the Archaeological State Museum, and one of the most important Roman museums in Germany. It is located on the site of the former largest Roman cavalry fort north of the Alps.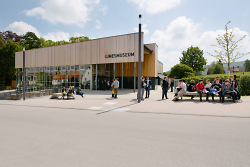 The museum presents the history of the Rhaetian Province and Upper Germania as well as military and civilian life on the Limes. Exhibits include numerous excavation finds on the fort site in Aalen and Rainau Buch where various special events take place every year.
Have you ever dressed up as a Roman and that in a museum?
Probably not, that's why you should visit the Limes Museum in Aalen, the most important Roman museum in south Germany. There, the slogan "Spaß mit römischer Geschichte" (Fun with Roman History) is now their motto.
The museum's main theme is the Roman occupation of south Germany in the 2nd century AD.
Superbly restored weapon finds, such as shock lances, swords, heavy chain mails and spiked sandals show the Roman army's excellent armament. Imposing is, the reconstructed in 1:1 scale, arrow ordinance.
The intricate production methods of tools and crockery give an insight into civilian life. Gold and silver jewellery and well-minted coins testify modest wealth. In contrast, we see massive sanctifications and gravestones made from local sandstone. A more than 6.5 m high stone column in honour of the god Jupiter leaves a lasting impression.
A treasure find of unique utility and cultural objects from the fort village Buch is the exhibition highlight.
Great emphasis was put on the didactic concept of the museum.
Detailed drawings, photos and models make it easier to understand the texts. Several pewter figure dioramas, particular attractions for children, convey a picture of life then.
The area in front of the museum where once the biggest Roman cavalry fort north of the Alps was situated is also noteworthy. The staff quarters with its well-preserved standards shrine were uncovered in a multi-year excavation campaign. A sign-posted circular trail explains this area.
The Limes Museum and its excavations form an impressive information centre of Roman history in our country.