Special Exhibition
Death from nowhere – Ancient Artillery
An exhibition of the Vexillatio Legionis VIII Augustae and the Archaeological State Museum Baden-Württemberg with the collaboration of the City of Aalen

Open from 16.05.2020
Opening Times: Tuesday to Sunday 10-17 hours, Monday closed
Ancient artillery still impresses today, due to its complex construction and efficient deployment. It also proves that, even in the ancient world, military and technical progress went hand in hand.
The Vexillatio Legionis VIII Augustae, the interest community for experimental archaeology and history, led by Alexander Zimmermann from Pliezhausen, has already devoted around 30 years research into Roman torsion artillery. Numerous replicas and experimental trials helped gain important know-how of the technical structure and functionality of these special weapon types.
These decades of work culminated in an extensive exhibition to this theme in 2015.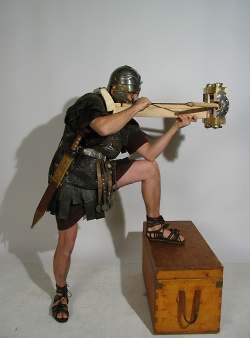 It presents, with original finds, replicas, installations, informative texts and depictions, an interesting insight into the sophistication of Roman army weapon technology.
The over 100 year old reconstructions from the Roman fort Saalburg collection, serve as the starting point of the presentation in the Limes Museum, Aalen. The Archäologische Landesmuseum (Archaeological State Museum) Baden-Württemberg also exhibits many original finds of catapult bolts from four centuries that were found in today's southern Germany.
Exceptional loan exhibits are the catapult points with the hallmark of the 19 Legion from Oberammergau, from the time of the so-called Alpine Campaign of Augustus in 15 BC.
Exhibit Lenders:
Archäologisches Landesmuseum Baden-Württemberg
Archäologische Staatssammlung München
Vexillatio Legionis VIII Augustae
Unfortunately, this series of lectures has been postponed indefinitely.